In today's society with information explosion, the cycle of technology and knowledge is getting faster and faster, and cross-industry and cross-post talent training is more and more important for the survival and development of enterprises. driving force for development. By providing personalized, professional and value-added learning solutions, the Overseas Education College of Shanghai Jiao Tong University helps enterprises and individuals to enhance their competitive advantages at the strategic and tactical levels, and provides advanced and comprehensive learning services for enterprises and individuals. To meet the training needs of different directions, we will provide customized talent training programs to help enterprises and institutions in innovative transformation and sustainable development.
For more than ten years, the college has worked for Baosteel Co., Ltd., SAIC Volkswagen, China Eastern Airlines, Master Kong, Ting Hsin International Group, China General Nuclear Power, China Resources Chemical, Bailian Group, New World Department Store, Shanghai Jahwa, IKEA, Geely Automobile, Longqi Holdings, Shanghai Pharmaceuticals Thousands of enterprises and institutions such as the Group provide personalized, customized and value-added learning solutions, and have accumulated experience in talent training in thousands of enterprises and institutions.
[Course Orientation] Our courses cover general management, professional competence, finance and taxation, corporate university, cadre training, Humanities and arts, corporate visits and study tours, etc.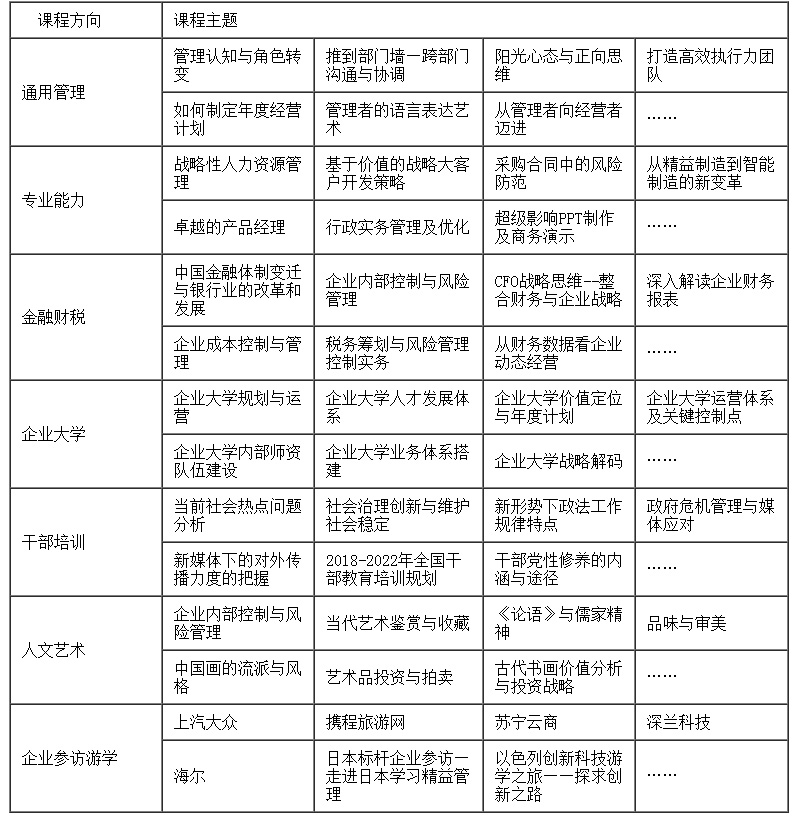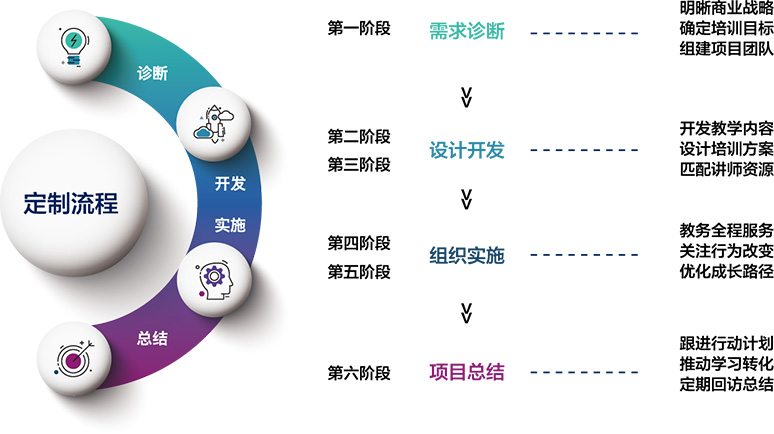 【Customization Process】
【Leadership Stratification Advanced Training Program】
In the era of globalization, Jiaotong University Overseas, as a high-end talent training base, adheres to the school-running philosophy of Jiaotong University's talent training, takes responsibility as its core value, and firmly believes that the successful training of leadership talents must be planned and organized. steps, predictable. Therefore, on the basis of analyzing the talent training data of thousands of enterprises, Jiaotong University Overseas has summed up the successful experience of talent training for more than ten years. It has established a leadership training program at different levels, and structured the company's training process for leaders at different levels to ensure that they are fully qualified for their positions and become high-performance managers.
Project Advantages:
> Hierarchical training design, clear path, Build a systematic leadership development process with clear goals > ; The curriculum system designed based on job tasks and competency models organically combines leadership improvement and work improvement to achieve the coordinated development of individuals and organizations > The advanced curriculum system is more systematic and targeted, which is based on the present without losing the Direction and Motivation
Financial Industry: Industrial and Commercial Bank of China, China Construction Bank, Agricultural Bank of China, Bank of China, Bank of Communications, Shanghai Pudong Development Bank, Minsheng Bank, China CITIC Bank, Pacific Insurance, China Life Insurance, CITIC Bank Securities, Guotai Junan, Industrial Securities, China Universal Fund, Ping An Leasing, Jifu Information…
Energy and Minerals: SDIC, CGN, Sinopec, PetroChina, State Grid, China Resources Chemical, China Aviation Oil, GCL Group, China Resources Chemical, CITIC Pacific Special Steel Group , Zhongli Group…
Cultural Tourism & Theme Parks: Jin Jiang Group, Huaqiang Fangte, Changzhou Play Valley, Hengdian Film and Television, Saishi Group, China Merchants Zhangzhou Development Zone, Haichang Group , Yufa Group, Hainan Wuzhizhou Island, Shimao Group, Free Home Camp…
Intelligent Manufacturing: Baowu Steel Group, SAIC Volkswagen, Shanghai Mitsubishi Elevator, SAIC Maxus, China Eastern Airlines, Skyworth Group, China Salt Industry, Longcheer Holdings, CITIC Pacific Steel, Daikin Air Conditioning, Xylem (China), Pentium Electric, Everbright Communications, Robam Electric…
Chain & Retail: New World Department Store, Shanshan Group, Red Star Macalline, Bailian Group, Master Kong, Dixintong, Shanghai Tobacco, Yierkang, Laiyifen, Yongda Automobile, Ajisen, Feihe, Wufangzhai, Qiandaohu Beer, Hot Air, Suning, Hey Tea, Mountain Forest Cooked Food…
Educational Media: Shanghai Media Group, Shanghai Oriental Media Group, BesTV, 51talk, EF Education, Xinhua Media, Anhui Publishing Group, Oriental Cable...
Beautiful and Healthy: Sino-US Shanghai Squibb Pharmaceuticals, Tongrentang, Shanghai Pharmaceuticals, Roche, COSMAX, LG Chem, Ciming Physical Examination, Leiyun Shanghai Pharmaceuticals Industry, Affordable Materia Medica, Xinyi Pharmaceutical…